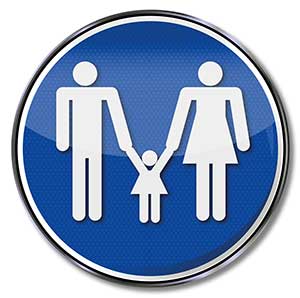 Family law covers several different areas of law. For example family law covers:
uncontested divorces,
contested divorces,
adoption,
child custody
child visitation and
A large part of family law is divorce. Divorces can be either contested or uncontested. Uncontested divorces are where the parties agree on everything. Consequently, no party has to appear in court to get a divorce. If the parties cannot agree, then one party has to file a contested divorce. With a contested divorce the judge makes the final determination with respect to division of assets and debts, child custody, and child support. Obviously in a contested divorce, the judge has the final determination with everything involved in the divorce.
Another area of family law is adoption. Some adoptions are easier than other adoptions. For example, stepparent adoptions are typically the easiest and quickest types of adoption when all parties consent to the adoption.
If a party wants to change their name and are not currently going through a divorce. They would have to go ahead and go through the probate court to change your name. This would involve filing a petition in filing the necessary documents for the probate court. You would also have to have a hearing in which to explain the judge the reasons why you want to go and change your name. Was the probate judge signs the order your name is changed and you can change any necessary documents with the Department of Motor Vehicles and social security administration.
Child custody is a frequent topic with respect to family law. Child custody laws and procedures are different depending on the facts and circumstances of each child custody case. For example, a different standard of proof is required when the parties are married and going through a divorce versus if they are divorced and one party has sole custody of the child. However, if parent has never been married then the custody issue will be heard in juvenile court.
Another common situation occurs when one party wants to modify their judgment of divorce. The modification can be for child custody, child support, alimony or enforcement. In many situations, any party can petition the court for a modification of the judgment divorce.
The Monk Law handles a variety of different family law issues. Consequently, if you are having a problem with a family law issue, give me a call to discuss your situation. A lawyer is standing by to help you with your issue.